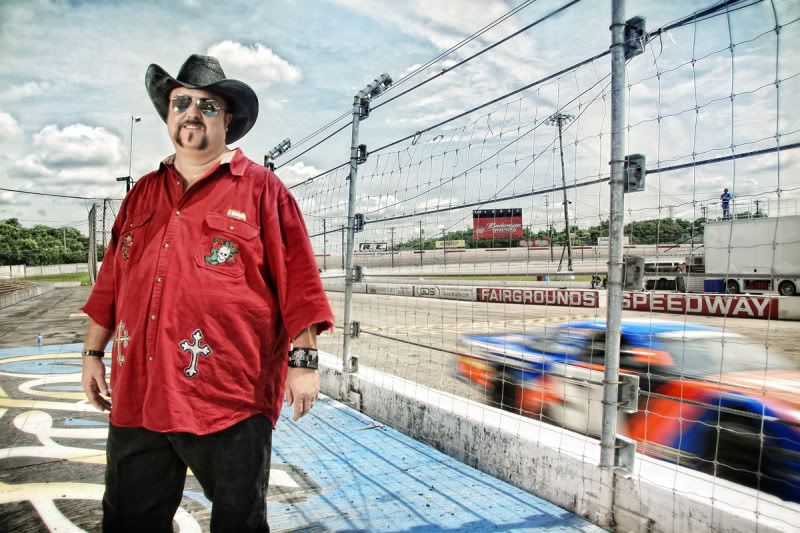 Hailing from a small town just outside of Athens Georgia, Colt Ford has made a recent splash in the music world with his unique blend of southern country with hip-hop, rock, and R&B influences. His interesting journey has taken him into some unsuspecting worlds which collide to make this bigger than life "average Joe" a one-of-a-kind artist and entertainer. In spite of a career that has launched like a rocket, taking him from virtual obscurity to earning a spot in the top 25 of Billboard's country charts in a little over a year, Colt is still a humble and hard-working family man, refusing to take himself too seriously. "Before I was as fat as I am now, I was a pretty good athlete" he told me in a recent interview about his life and career. Before his recent arrival on the National scene, he spent many years earning his living as a professional golfer and had already invested a lifetime into his passion for songwriting.
He discovered his knack for songwriting while in high school, when he wrote a rap for a friend, and soon after this discovery he began working with acclaimed producer Jermaine Dupri (Mariah Carey, Usher). After recording a hip-hop album with Dupri, Colt would spend the next six years as a professional golfer before returning to his musical pursuits. While he excelled at golf and was able to earn a living doing something he loves, his desire for a career in music was always just beneath the surface and he continued working at his songwriting along the way. When his wife said "Look, just go try one more time" Colt felt compelled to give it another shot, and with the full support of family and friends he set out to make his mark in the music world with a unique and bold vision.
Colt teamed up with Zach Mackeroy and manager/producer Shannon Houchins to form the start-up record label and management company Average Joe's Entertainment. He then enlisted veteran Nashville session players to record his debut album "Ride Through The Country." A truly original piece of American roots music, the heart of the record is Colt's deep voice delivering raps about country life, everyday folks, Waffle House, and trailer parks. The rap-style lyrics are intertwined with melodic choruses over a deep stomping groove, while at the same time featuring more fiddle and steel guitar than most country records in recent history.
With the completion of this groundbreaking album and release in December of 2008, Colt set out to build his fan base and started the year 2009 with a handful of tour dates and four friends on MySpace. By the end of the year that number had grown to 68,000. Colt's concept regarding building a fan base is simple; personal attention. When I asked him about his approach, he said, "I still, to this day, answer every message myself on MySpace. I've never requested anybody as a friend on MySpace, it's been organic." He also signs autographs after literally every show. This approach has paid off. One year and 210 tour dates later, Colt had sold over 150,000 copies of his album which by that point had made it to the hot 200 albums chart, all without any help from radio or TV.
Some of this recent wave of success currently enjoyed by Colt can be attributed to his connection to the Nashville songwriter community, as he has recently been collaborating with such notable songwriters and singers as Randy Houser, Luke Bryan, James Otto, Joe Nichols, Darryl Worley, John Michael Montgomery, Josh Gracin, Trent Tomlinson, Rhett Akins, and others. Colt has cherished these experiences so far. "Being able to write [and record] with those guys is amazing, and it's changed the way I've written songs a little bit in certain things, which is a great thing. I mean, you've got to grow. I wrote most of the first album myself, but I wanted to expand and see what else I could come up with. I don't got all the ideas (…laughs)." Some of these recent co-writes will be featured on his much anticipated second album, Chicken And Biscuits, scheduled for release on April 20, 2010. Other recent songwriting credentials include work with songwriter/guitarist Jeremy Popoff of the alt rock band Lit, and hip-hop writer Attitude.
Already off to a rocking start, 2010 has delivered Colt Ford to his first appearance on the Grand Ole Opry, the crème de la crème of country gigs. With excitement building as the release of his new album grows near, and what is destined to be another busy year of touring, who knows what surprises are in store. Regardless of what the future may hold, one thing is for sure. Colt Ford is bringing a new kind of country to town.
Click Here to visit the